POEME OF FIRE
Ever since the beginning of man, Fire has been particulary revered. Legends on its origin abound, each one conferring upon it a sacred feature; legends making of Fire a link between Creature and his Creator.

Thus the Celtic Tradition brings us a myth close to Zarathustra's: During the ceremonies heralding in the new-year, men would like two hearths. The first one which had been watched and honoured all the year round would be coming to its end while the second, according to the memorial and magic process composed by the two celestial and earthly elements, gave birth to the new Fire.

When the two glowing furnaces were blazing in all their splendour, the entire village, men, flocks and herds, in a long procession passed between the two Fires : The two movements of the poem. Everyone rejoiced to have mastered this divine gift.

This vision has inspired the Composer. "Poème de Feu" is an original work for Great Harmony Orchestra. It is composed then of two movements.
The first movement - Maestroso - is a Fire of gigantic proportions, the Spring of life which makes us relive the first moments of creation.

The second movement - Prestissimo - being at the heart of human achievement, is a power of revelation, an impetuous power which raises man to level of demiurge and which finishes in the Fire apotheosis and, in this way, granting Prometheu's wish.
IDA GOTKOVSKY's field of action goes beyond her country to shine over bounds and it is this which explains so well her decleration of faith :
"TO CREATE AN UNIVERSAL WORK AND ASSUME UNITY OF MUSICAL EXPRESSION THROUGHOUT TIME BY A MODERN LANGUAGE WITH RIGOROUS STRUCTURES."

POÈME DU FEU
Ida GOTKOVSKY
Depuis que l'homme existe, un respect particulier s'est adresse au Feu. Les légendes sur son origine abondent et chacune lui confère un caractère sacré - légendes qui contribuent à faire du "Feu" le maillon qui lie la créature à son créateur. Ainsi la tradition celtique nous rapporte un mythe proche de celui de Zoroastre :

Lors ces cérémonies qui marquaient le début de l'année, les hommes allumaient deux foyers. Le Premier qui avait été conservé et honoré toute l'année s'achevait pendant que le Second suivant le procédé immémorial et magique constitué des deux éléments célestes et terrestre engendrait le Feu nouveau. Lorsque les deux brasiers s'élevaient magnifiques tout le village, hommes et troupeaux en un long cortège passaient entre les deux Feux (les deux Mouvements du Poème).

Cette vision a inspiré le compositeur. Le "Poème du Feu" est une oeuvre originale pour grand orchestre d'Harmonie. Elle se compose donc de deux mouvements. Le Premier Mouvement - Maestroso - est un Feu aux dimensions gigantesques, source de vie qui fait revivre le premiers mouvements de la création. Le deuxième mouvement - Prestissimo - se situant au coeur des réalisations humaines, est une puissance libératrice, impétueuse qui élève l'homme au rang de démiurge et par une affluence d'énergie, d'incandescence, se termine dans l'apothéose du Feu exhaussant ainsi le voeu de Prométhée.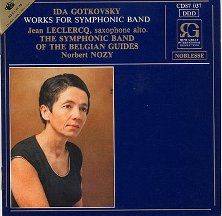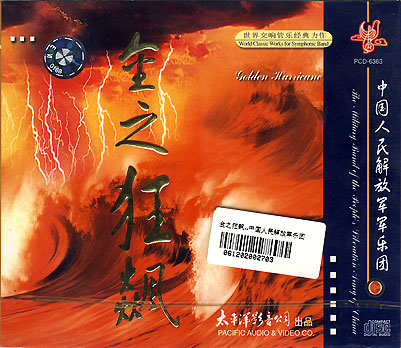 POEME DU FEU
IDA GOTKOVSKY - WORKS FOR SYMPHONIC BAND
- Concerto for Symphonic Band (Lyrique, Expressif, Obstiné) 26'40"
- Concerto for Saxophone and Symphonic Band
(Allergro con fuoco, Andante cantabile, Presto) 22'16"
- "Poème du Feu" for Symphonic Band (Maestro, Prestissimo) 14'07"
Durée totale: 63'16"
Symphonic Band of the Belgian Guides. Direction : Norbert Nozy
Collection NOBLESSE
René Gailly International Productions 1989
ref: CD 87 037
World Classic Works for Symphonic Band
Orchestre Militaire de l'Armée de Libération Populaire de Chine.

ISBN 7-7991-0926-2
distributeur: Pacific Audio & Video Co.